Why in news?
Finance Ministry published draft guidelines during in May of a New Gold Monetisation Scheme, earlier proposed
in the Budget.
This Gold Monetisation Scheme would replace both the present Gold Deposit and Gold Metal Loan Schemes.
"Finance Minister also announced the development of an alternate financial asset, a
Sovereign Gold Bond
, as an alternative to purchasing metal gold. The bonds would carry a fixed rate of interest, and also be redeemable in terms of the face value of the gold, at the time of redemption by the holder of the bond."
What is the scheme all about?
Source: Financial Times
Who all can take advantage of the scheme?
Depositors of gold can earn interest in their metal accounts

Jewellers can obtain loans in their metal account

Banks / other dealers would also be able to monetise this gold.
How would it work - for all three of these?
There will be two types of account -
Gold Saving Account - Links general public / Mango-Man with the bank
Gold Loan Account - Links jeweler with the bank
For Gold Savings Account: Bank - Public link : see image below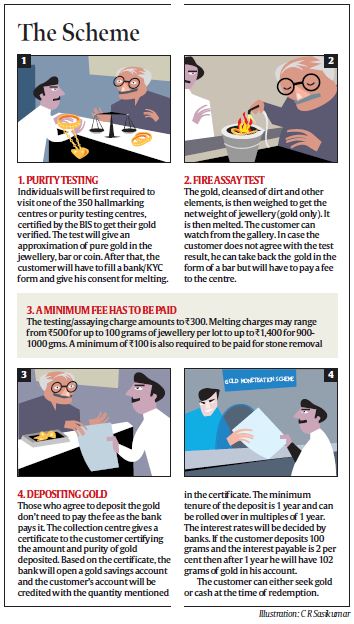 Source: Indian Express
For Gold Loan Account: Bank - Jeweller link and the Interplay of both the Accounts:
Source: MyGov Website
To liquidate domestic gold (22,000 tonnes, lying idle in households, mainly rural) and convert non-productive asset into a productive one.

To curb demand of Gold imports, which has grown in recent months

To improve the Current Account Deficit (CAD)

To mobilise existing gold stocks in the country to meet prospective demand

To overcome drawbacks of ongoing

Gold Deposit and Gold Metal Loan Schemes.
Summary with Critical Analysis:
Source: Telegraph
Also --> Less gold demand (as this would present an alternate investment option) and more supply (from the melted gold that people deposit) --> prices will smoothen