Why in news?
Cabinet Committee on Economic Affairs cleared Housing for All by 2022, a flagship project of the NDA government.
What is the need for this scheme?
Source: Indian Express
Source: Indian Express
So who needs houses the most?
The EWS and LIG category. According to the revised norms,
Economically Weaker Section (EWS) category - households earning an annual income of </= Rs 3 lakh (earlier - 1 lakh)

Low Income Group (LIG) segment - households earning between Rs 3-6 lakh per year (earlier - 1 to 2 lakh)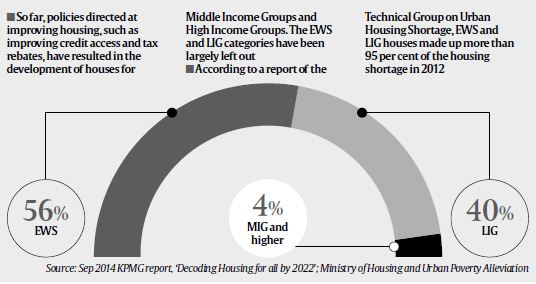 What is the 'Housing for All by 2022' scheme all about?
Aimed for urban areas with following components/options to States/Union Territories and cities:-
THE FOUR VERTICALS OF THE MISSION (Source: Fantastic Fundas)
Both centrally sponsored and sector scheme:
The scheme will be implemented as a Centrally Sponsored Scheme
except the
credit linked subsidy component
, which will be implemented as a
Central Sector Scheme
.
DETAILS OF THE MISSION:
MONE
Y
:
renewed emphasis on the low-income group categories by way of relaxed income limits and higher interest subvention.
Slum Rehab Programme:

Central grant of ₹ 1 lakh / house, on an average, will be available under the slum rehabilitation programme.

A State Government would have flexibility in deploying this slum rehabilitation grant to any slum rehabilitation project taken for development using land as a resource for providing houses to slum dwellers.

Under the Credit Linked Interest Subsidy component, interest subsidy of 6.5 % on housing loans availed upto a tenure of 15 years will be provided to EWS/LIG categories
Central assistance ₹ 1.5 lakh / house for EWS category will be provided under the Affordable Housing in Partnership and Beneficiary-led individual house construction or enhancement.
The Mission also prescribes certain mandatory reforms for easing up the urban land market for housing, to make adequate urban land available for affordable housing.
Houses constructed under the mission would be allotted in the name of the female head of the households or in the joint name of the male head of the household and his wife.
COVERAGE:
The scheme will cover the ENTIRE urban area consisting of 4041 statutory towns with initial focus on 500 Class I cities and it will be implemented in three phases as follows,

Phase-I (April 2015 - March 2017) to cover 100 Cities to be selected from States/UTs as per their willingness;

Phase - II (April 2017 - March 2019) to cover additional 200 Cities and

Phase-III (April 2019 - March 2022) to cover all other remaining Cities.

However, there will be flexibility in covering number of cities in various phases and inclusion of additional cities may be considered by the Ministry of Housing & Urban Poverty Alleviation in case there is demand from States and cities and have capacity to include them in earlier phases.
Credit linked subsidy component of the scheme would be implemented across the country in all statutory towns from the very beginning.
BENEFICIARY (number and identification):
Dimension of the task at present is

estimated at 2 crore

.

Exact number of houses- depend on demand survey for which all States/Cities will undertake detailed demand assessment for assessing actual demand by integrating Aadhar number, Jan Dhan Yojana account numbers or any such identification of intended beneficiaries.
TECHNOLOGY SUB-MISSION:
To be set up to

facilitate adoption of modern, innovative and green technologies and
building material for faster and quality construction of houses.

Will also facilitate preparation and adoption of layout designs and building plans suitable for various geo-climatic zones.
Will also assist States/Cities in deploying disaster resistant and environment friendly technologies.
Will coordinate with various regulatory and administrative bodies for mainstreaming and up scaling deployment of modern construction technologies and material in place of conventional construction.

Will also coordinate with other agencies working in green and energy efficient technologies, climate change etc.

The Technology Sub-Mission will also work on the following aspects:

i) Design & Planning

ii) Innovative technologies & materials

iii) Green buildings using natural resources and

iv) Earthquake and other disaster resistant technologies and designs.
Flexibility to States for choosing best options amongst four verticals of the Mission to meet the demand of housing in their states.
The process of project formulation and approval in accordance with Mission Guidelines would be left to the States, ---> implementation faster.
The Mission will provide technical and financial support in accordance to the Guidelines to the States to meet the challenge of urban housing.
The Mission will also compile best practices in terms of affordable housing policies of the States/UTs designs and technologies adopted by States and Cities with an objective to spread best practices across States and cities and foster cross learning.
The Mission will also develop a virtual platform to obtain suggestions and inputs on house design, materials, technologies and other elements of urban housing.
CHALLENGES/ISSUES OF HOUSING SECTOR IN INDIA
Unfavourable land management policies such as the Urban Land (Ceiling and Regulation Act), 1976, remain prevalent in certain States, along with low Floor Space Index (FSI) ceilings in different cities.

As a result, small low-rise residences and commercial complexes are being developed on each plot, leading to lower incomes for developers and, hence, higher prices to cover land costs ---> costly for consumers.

The issue of titling and the lack of property rights information add to the problem.

Under Indian law, registration of sale of land is compulsory, but the registration authority is not required to verify from the seller either the history or ownership of the land.
This weakens buyer protection and acts more as a fiscal instrument for the state instead of being a statutory support of certainty to title.

Floor Area Ratio/FSI ratios have led to horizontal expansion and need to be doubled to bring about a vertical expansion.

Andhra Pradesh has removed the FAR concept, creating adequate supply and stabilised prices.

A land pooling policy would aid in semi-urban areas, with beneficiaries being exempted from tax on capital gains and stamp duties.
If there is successful implementation of the National Land Records Management Programme (NLRMP) by 2018, it will make it easier for developers to focus on suitable land parcels with reduced litigation risks.

Project launches and completion delays are becoming commonplace, alongwith bottlenecks in the supply of raw materials and labour.
Regulatory approvals remain a complex process, with a minimum of 34 of them to be followed by a developer to obtain construction permits. This takes 18-36 months. Most departments issuing such permits have similar checklists. This leads to duplication of work and delays.

Both the National Housing Policy 2007 and the Jawaharlal Nehru National Urban Renewal Mission have identified "simplification of the building approval process" as an important area for action. The government needs to expedite the implementation of the IT-enabled "single window approval system" with linkages between the Centre and State governments, urban bodies and panchayat levels (SAPREP Committee, 2013).

Urban experiments in Ahmedabad, Chennai and Pune have resulted in automated building plan approval processes.

Hong Kong's 'smart regulator' programme merged eight procedures involving six different agencies and two private utilities into a one stop centre.
Affordable housing can be boosted by establishing a green channel for approving low-cost housing projects. The National Building Code of 2005 needs to be revisited for low-cost housing norms, and automatic clearances for projects with Leadership in Energy and Environmental Design/Green Rating for Integrated Habitat Assessment certification should be ensured.

Gathering initial funding for any real estate project is a daunting task, especially for new entrants, as the Reserve Bank has set a 15 per cent threshold for banking exposure to real estate (including housing loans and construction finance).

The absence of long-term funding from financial institutions has led developers to consider alternative financing with higher interest rates, leading to higher housing inflation.
Granting infrastructure status to real estate, especially to affordable housing, will open up additional financing avenues — insurance firms, tax-free infrastructure bonds or up to 50 per cent funding through external commercial borrowing.
A public-private partnership mode with government backing, as Rajasthan has done, will also secure institutional lending at lower costs. Out of the Rs.22,407 crore budgeted for the housing sector, a separate allocation is required for affordable housing.
Rationalisation of tax, constituting 30-37 per cent of deal value, will incentivise housing development.

This can be ushered in by reviewing its various constituents including stamp duty, service tax, value added tax, land conversion charges and external development charges ---> Unification

Introducing the Benami Transactions (Prohibition) Bill, 2015 and the Undisclosed Foreign Income and Assets (Imposition of Tax) Bill, 2015 (black money bill) will curb the flow of black money into real estate, improving the overall affordability of the sector.

Revisiting the Rent Control Act could free up a significant portion of the 20 million unoccupied housing units.
Hong Kong and Singapore have institutionalised highly successful public housing programmes catering to 50 per cent and 85 per cent of their population respectively. Social housing, built through public-private partnership projects, could be developed to provide subsidised rental housing. Making rental income tax-free could potentially unlock 11 million housing units.
India's real estate sector needs large funding, transformative infrastructure development, along with supportive regulatory and policy mechanisms to achieve social and economic objectives. Careful nurturing through policy action could catalyse India's affordable housing boom.
[Sources: PIB, Indian Express, The Hindu]