After 19 years, the Nabakalebara process began on March 29, Rath Yatra will mark culmination on July 18.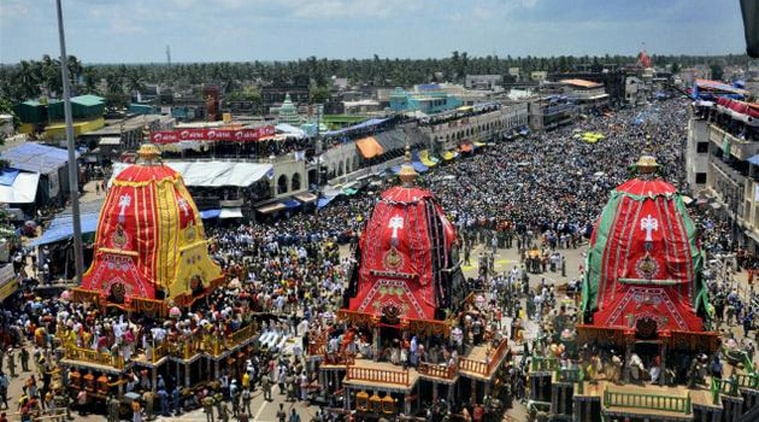 Source: Indian Express
A key festival in the Odia Hindu calendar, marking the demise and re-birth of Lord Jagannath of Puri -

twelfth century temple

Naba is New; Kalebara is Body.

Nabakalebara becomes necessary as the neem wood from which the deities — Jagannath, Balabhadra and Subhadra are made — decays over time.
Nabakalebara happens when there are two Ashadhs in a year.
The process begins with a few chosen servitors of the Lord going out in search of neem trees for the idols. The logs are ferried to the temple on bullock carts in an elaborate procession.
After the deities are sculpted inside the temple, four servitors — Badagrahis or bodyguards — transfer the Brahmapadartha (soul) from the old idols to the new ones in the dead of night.
old deities are simultaneously buried inside the temple.
new idols make a public appearance a day before the Rath Yatra.

whole process takes around 2 months.

last Nabakalebara happened in 1996.

This year, the Nabakalebara process began on March 29.
So, what is the problem?
Servitors and politicians have turned the holy event into a spectacle of grandstanding and oneupmanship.
One of them debunked the legend of a "dream" guiding the search for the neem trees on a local TV channel, and some of them placed their personal hundis near the trees and by the roadside to solicit money.
When the logs were being carted to the temple, Animal Husbandry Minister Pradip Maharathy got on to the bullock carts, and Law Minister Arun Sahu flaunted his proximity to the servitors by eating with them.
The sacred soul-transfer was carried out in the daytime, even as 100-odd servitors fought among themselves.
While only four Badagrahis were supposed to be present in the closed room during the soul-transfer, nine were actually present, including a father-son duo.
Subsequently, it emerged that most servants of the Lord had taken mobile phones inside, and a fight had broken out over touching the mysterious Brahma. Pictures of Brahma and the deities being buried appeared in social media, hurting the sentiments of lakhs of devotees.
The government has now barred the father-son servitor duo from temple rituals, ordered a probe into the appearance of Brahma photos in social media, and appointed a senior IPS officer to oversee the Nabakalebara process until the Rath Yatra of July 18.
Bandhs are being called
Why is Lord Jagannath so important to Odisha and its people?
The Lord is part and parcel of the social, religious and cultural ethos of the people of the state — the "First Odia", so to speak.

Politicians starting out on election campaigns seek His blessings first, and ordinary households invite Him to weddings in the family before anyone else.

He is seen as the God who, just like ordinary mortals, takes birth and dies.
[Source: Wikipedia, Indian Express]