India lost Poultry case against US at WTO

India ordered a ban on these imports as a measure to protect against avian influenza (AI) (bird flu).
Appellate Body of World Trade Organisation (WTO) on 4 June 2015 ruled against India's ban on products like eggs and other poultry from US - a major win for US agriculture which relies heavily on science.

India's ban is not based on international standards or a risk assessment.
That India's AI measures violated global norms on the grounds that the prohibition was limited to just one country and not to all imports from any country with AI risk.
Effect of Judgement
India will have 12-18 months to implement this ruling, after which the US can begin exports of poultry products to India.

India is a big market for the US, which is one of the world's largest exporters of chicken meat - BIG gain ($$) for US!
Now, let's know more about WTO's dispute resolution mechanism.
WTO DISPUTE RESOLUTION MECHANISM
Principles:
equitable, fast, effective, mutually acceptable
What do "disputes" here mean?
Basically confined to 'broken promises'.
Why does dispute arise?
"A dispute arises when one country adopts a trade policy measure or takes some action that one or more fellow-WTO members considers to be breaking the WTO agreements, or to be a failure to live up to obligations. A third group of countries can declare that they have an interest in the case and enjoy some rights." - WTO
How are the stages of disputes settlement at WTO and how long do they usually take?
Procedure for dispute settlement is based on an Understanding-based rules and procedures.
Overall duration and steps: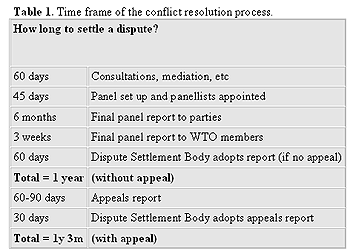 What if members are not able to agree on a solution?
They can request for a panel of independent experts to resolve the dispute.
(Source: WTO website, Hindustan Times, ToI)